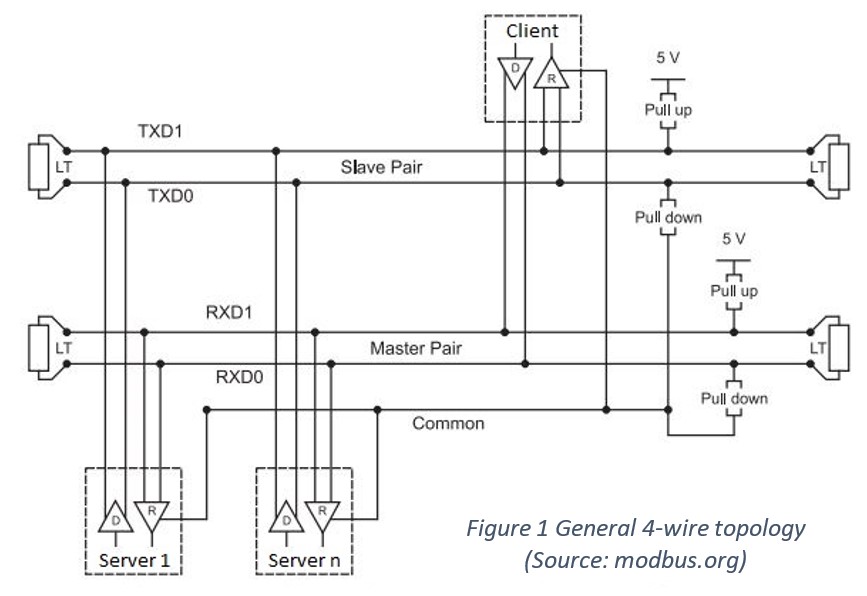 Modbus communication protocol remains popular in the industrial automation and building automation industries, especially for energy management. Boilers, chillers, and energy meters commonly use Modbus, and these devices must be able to communicate with a Building Automation System (BMS) over a BACnet/IP network. Contemporary Controls' BASgatewayLX can integrate Modbus Serial and Modbus TCP to BACnet/IP. It can also act as a Modbus TCP to Modbus Serial Router.
Recently, we provided support for a client to help them interface a 4-wire Modbus RTU device with BACnet/IP. First, the 4-wire device had to be integrated to a 2-wire system. Then, this 2-wire system was connected to the optically-isolated Modbus EIA-485 serial port on our BASgatewayLX.
Although the Modbus over Serial Line specification supports both a 2-wire and 4-wire arrangement, the BASgatewayLX is only compatible with the more popular 2-wire system.
We referred to the Modbus standard developed by Modbus.org — MODBUS over Serial Line Specification and Implementation Guide V1.02 — that provides information on integrating a 4-wire system to a 2-wire system.
In order to connect devices implementing a 2-wire interface to an already existing 4-wire system, the 4-wire cabling system can be modified as described below:
TxD0 signal shall be wired with the RxD0 signal, turning them to the D0 signal.
TxD1 signal shall be wired with the RxD1 signal, turning them to the D1 signal.
Pull-up, Pull-down and line terminations resistors shall be re-arranged to correctly adapt the D0, D1 signals.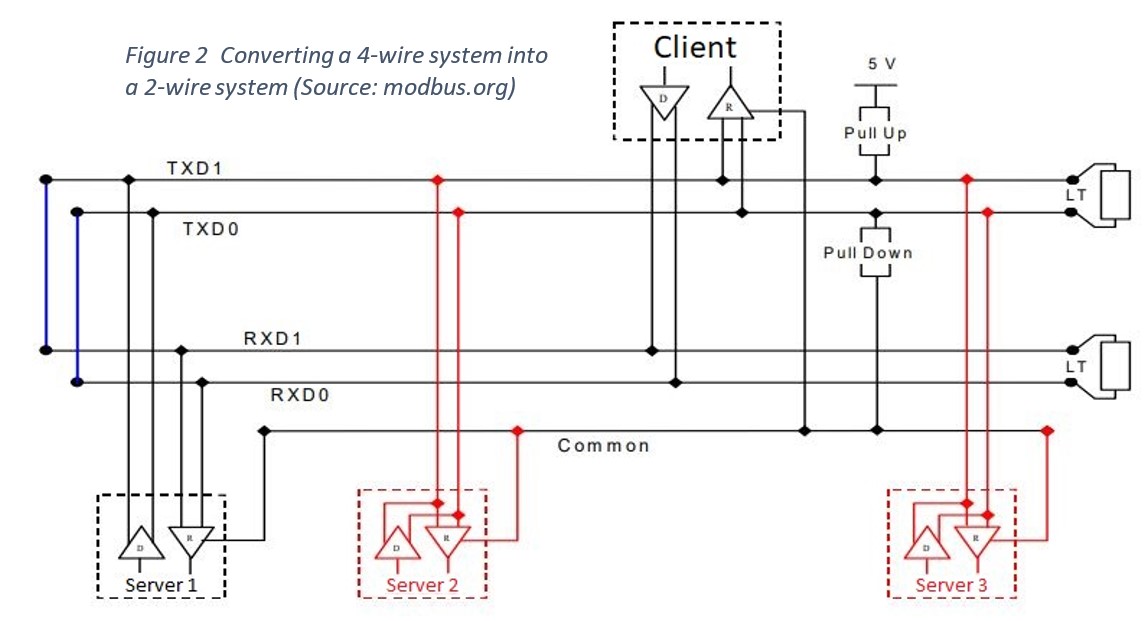 Figure 2 shows an example where servers 2 and 3, which use a 2-wire interface, can operate with the client and server 1 which use a 4-wire interface.
The BASgatewayLX has one 10/100Mbps Ethernet port with Auto-Negotiation and Auto-MDIX that supports Modbus TCP and BACnet/IP. It has an opto-isolated Modbus EIA-485 serial port for Modbus RTU or Modbus ASCII devices. The EIA-485 serial port allows for connection to either 2-wire or 3-wire EIA-485 networks using a removable 5-pin terminal block.
Up to 100 Modbus serial devices represented by up to 1000 polled points can share the single EIA-485 serial port. BACnet COV notification is supported on 200 points (100 Analog and 100 Binary points). The virtual routing feature in the BASgatewayLX allows each connected Modbus device to appear as an individual BACnet compliant device. What is needed is a device profile for each Modbus type device. Contemporary Controls maintains a library of common device profiles available for download in the Modbus Mapping Support Materials section.
For more information, visit the BASgatewayLX product page.