At Contemporary Controls, we take great pride in our commitment to HVACR education and training. To support HVACR programs, we have worked with several affiliated colleges and technical schools to create practical classroom/lab experiences that merge traditional HVACR knowledge with the computer and IT skills needed in today's high-tech building automation industry.
BAScontrol Unitary Controllers
The BAScontrol series of unitary controllers are ideal for general purpose applications, such as controlling fan coils, heat pumps, lead-lag pump sequences, and constant volume air-handlers and RTUs. They are housed in a rugged low-profile metal enclosure with wide temperature operation, making them suitable for indoor or outdoor use.
All models support BACnet/IP server operation. Newer models feature 22 points of I/O, and support BACnet client/server operation over BACnet/IP.
Though most applications are migrating to IP, MS/TP is still commonly used in today's industry. Graduates entering the workforce will encounter MS/TP and should know how to work with it. Therefore, our latest model—the BAScontrol22S—supports BACnet client/server operation over BACnet/IP or BACnet MS/TP, so students can learn MS/TP in the classroom.
The controllers are BACnet/IP connected and communicate over Ethernet. Incorporating Ethernet switches to interconnect the controllers, the instructor can observe student progress from a central location without having to connect individually to each controller.
Control Without Restrictions
The BAScontrollers feature BACnet as a communications protocol and Sedona as a license-free function block programming language. These controllers offer simple webpage configuration and are freely programmable using Contemporary Controls' BAScontrol Toolset which is a free set of software tools that allows students to configure, test, emulate, and archive controller operation on a Windows PC. Pre-built HVAC applications are also available to demonstrate a full automation project implementation and project submittal.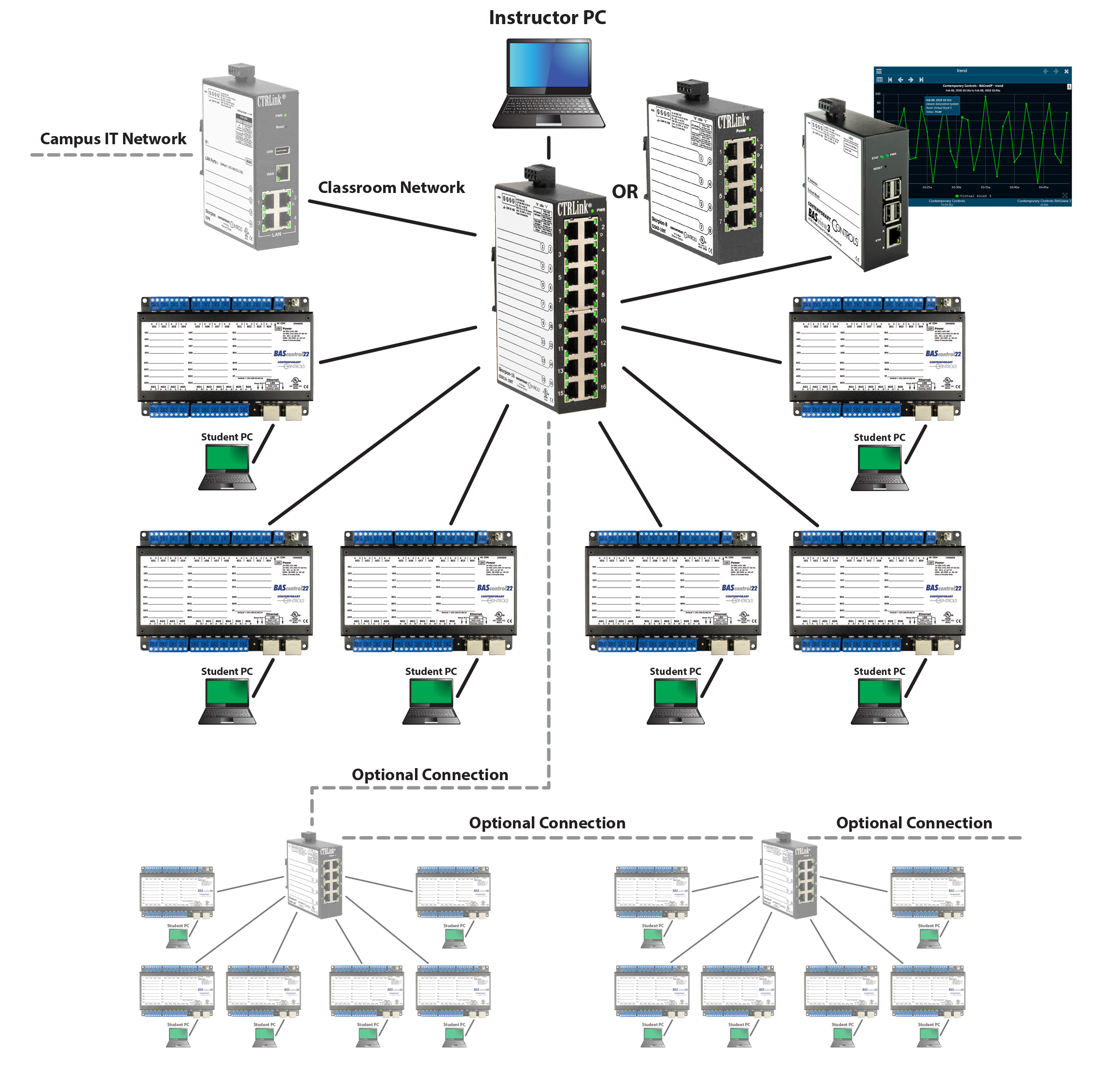 In addition to 22 physical points, the BAScontrol series (Models 22C, 22D, and 22S) offers 24 Virtual Points available to BACnet client supervisors (such as BASview3). Although each physical I/O point on the controller can appear as a BACnet analog input (AI), analog output (AO), binary input (BI) or binary output (BO) with real live data to a headend, the student can create a "soft-point," such as an intermediate calculation or setpoint, and bring it out to a BACnet analog or binary variable (AV or BV) for supervisor monitoring. This shows the student the difference between physical points and Virtual Points.
Combined with award-winning technical support, an educational discount on hardware, and free software tools, our networking and control products are perfectly suited for training and education applications. For more information, visit Training and Education with Contemporary Controls.